---
---
Welcome to

Glewwe's Castle Brewery,
Prior Lake, Minnesota USA

Home Made Root Beer since 1994
---
We prefer you contact us about sales at one of our Farmers Markets, such as the Little Market that Could. The market is open Thursdays from 4pm until 7pm from June to the end of September. The market is located just west of Tractor Supply at CR-23 and MN-13 in Prior Lake. You can also find us at other events.

If you are unable to visit the markets or have other inquiries, you can contact us at:
Phone: 952-440-4558
E-mail: brewer at glewwe-castle.com
(sorry, but the spammers use automated robots to hunt for links. I am sure you can figure it out)
If you are coming out to visit, please consider Saturdays between 9am and 2pm, one of our open house events, or make an appointment. Here is a Map and Directions.
Note: Summer 2022, CR 27 (Texas Avenue) is under construction to install multiple lanes. Please consider this construction as you plan your travels.

Other supporting roles that help us be successful:

| | |
| --- | --- |
| Vice President of Operations | vpoop at glewwe-castle.com |
| Viceroy of Leadership, Administration & Donjon | vlad at glewwe-castle.com |
| Director of Research & Development | rd at glewwe-castle.com |
| If you want More (Distribution) | more at glewwe-castle.com |
Please, no rush orders. Especially in our off-season (October-April). This is a hand-crafted, home made product, that takes time to produce. The kids will attest to every step is all done by hand, including the bottle washing, bottle filling, capping, and labeling.

Sorry, we are pretty low tech. No Twitter feeds, or other such silliness. But you can check out a Facebook fanclub or the Facebook site (run by our son Erik & his ever faithful companion Lauren), or unbias assessments of our root beers at Anthony's Root Beer Barrel or Eric's Gourmet Root Beer.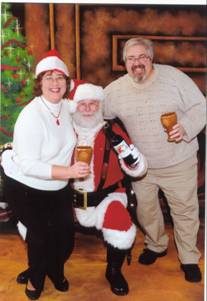 Cheers from the Staff and Fans
---
Sales Page for Glewwe's Castle Brewery of Prior Lake, Minnesota USA
Sales Page for Glewwe's Castle Brewery of Prior Lake, Minnesota USA
History Page for Glewwe's Castle Brewery of Prior Lake, Minnesota USA
WWW Home Page for Glewwe's of Prior Lake, Minnesota USA
(http://www.glewwe-castle.com/sales)
Last modified May, 2022
Website Questions or Comments: Contact our webmistress at glewwe-castle.com